Premier Orvis Fly Fishing Lodge on The South Fork of the Snake River.
About the Lodge at Palisades Creek
The alarm clock buzzes, sunlight passes through the barn wood window of your private streamside cabin and the faint sound of rippling water can be heard. Another day of angling is about to begin on the South Fork of the Snake River. Feverishly grabbing your rod as visions of orange slabs sipping in riffles make it easy to forget life outside of today. This is South Fork fly fishing at its finest.
Located at the confluence of Palisades Creek and the South Fork of the Snake River, The Lodge at Palisades Creek is an Orvis endorsed lodge on the best dry-fly fishing river in all of North America. Boasting rustic yet luxurious private cabin accommodations, prestigious Jackson Hole inspired cuisine and a variety of imported wines and spirits, it is no wonder the Lodge at Palisades Creek was awarded "Lodge of the Year" by Orvis in 2014. Our esteemed guides round up this award, each with an average of 10 years fishing on the South Fork. We maintain that we have wrangled up the finest, most patient and responsible "fishing junkies"  this river or any, for that matter, possible.
With 4,500 trout per mile and a daily average of 15-18 inch Yellowstone Cutthroat, Rainbow, and Brown Trout. The South Fork of the Snake truly is a necessary addition to every angler's memory log. Eager trout munch their way through hordes of hatches throughout the year in braids, riffles, runs, banks and drop-offs of this fabled river. Eighty five percent of our current clients at The Lodge at Palisades Creek are repeating the trips of years past. Begin your relationship today.
Every staff member at The Lodge at Palisades Creek is dedicated to the comfort and enjoyment of you…our valued guest. Your happiness is not only our goal, but it is our guarantee. We can promise your next return will prompt you to bring new friends, family, and guests to share in this great experience.
Most of our staff lives locally and works seasonally. Many have worked at the Lodge for over 10 years. You can ask a housekeeper about the dinner menu, a server about needing an extra pillow, or a groundskeeper how the fishing has been. The Lodge is family owned. Marshall and Patricia Geller have been owners since 1990.
Justin-Hays, General Manager, Minneapolis, MN
Justin Hays, Manager of The Lodge of Palisades Creek, has 30 years of experience in the hospitality industry. With a passion for fly fishing, he looks forward to continuing the legacy of great food, great service, and great guides. Please feel free to contact him any time so that he can guarantee your stay is as incredible as can be expected. jhays@tlapc.com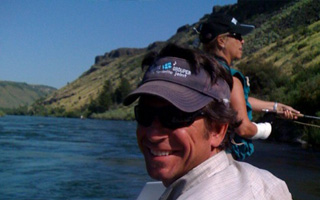 Bob Swanson, Executive Chef, Driggs, ID
Bob has been in the service industry for years. He is an accomplished woodworker, fly fisherman, and oarsmen. We are lucky to have him and his great spirit. A laid back Chef that always creates incredible cuisine. Feel free to make a request, Bob loves making food that makes you happy.
Shawn Settlers, Chef, Jackson, WY
Shawn has been an outstanding addition to the kitchen crew. He brings contemporary, healthy menu items from his experience at the Four Seasons Resort in Teton Village, Wyoming. A gentle giant that is quickly becoming an accomplished fly fisherman.
Shayde Stotts, Reservations & Guest Services, Irwin, ID
Shayde is a true local. Shayde has worked every department on the property since 2004. As he pursues a degree in fisheries management, we are lucky to have him back every year. You will see him in the dining room when you return from your fishing day. You may also see him in the morning preparing the Lodge for our guests. He may even be you fishing guide. We are sure his father taught him well as his dad guided on the river for many years.
Vern Schroeder, Grounds and Maintenance, Swan Valley, ID
Vern lives here in Swan Valley, Idaho. He keeps our grounds immaculate, the water running, and the lights on. A do-it-all kind of guy that can row a boat too. Vern is an all around team player. Vern lives on property year round.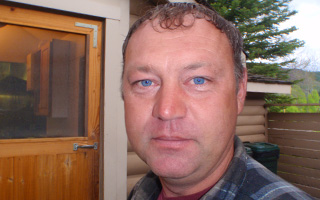 Sun Norrell, Housekeeping, Irwin, ID
Sun was born on a small island on the west coast of South Korea. She has four sisters and an older brother that still live in Korea with their father. Sun immigrated to the United States in 1992 with her husband Jim and moved to Alabama. After a three year stay, Jim was reassigned back to Korea at which time Sun decided to move up to Idaho falls with her in-laws for a year. In 1999. Jim retired and they returned to Idaho to make a home here in Irwin. In July of 2000, she started working for The Lodge at Palisades Creek and has worked here every summer season since. A passionate border collie breeder and dedicated housekeeper, she is a gift to the lodge and our guests.