Premier Orvis Fly Fishing Lodge on The South Fork of the Snake River.
About the Lodge at Palisades Creek
The alarm clock buzzes, sunlight passes through the barn wood window of your private streamside cabin and the faint sound of rippling water can be heard. Another day of angling is about to begin on the South Fork of the Snake River. Feverishly grabbing your rod as visions of orange slabs sipping in riffles make it easy to forget life outside of today. This is South Fork fly fishing at its finest.
Located at the confluence of Palisades Creek and the South Fork of the Snake River, The Lodge at Palisades Creek is an Orvis endorsed lodge on the best dry-fly fishing river in all of North America. Boasting rustic yet luxurious private cabin accommodations, prestigious Jackson Hole inspired cuisine and a variety of imported wines and spirits, it is no wonder the Lodge at Palisades Creek was awarded "Lodge of the Year" by Orvis in 2007 & 2014. Our esteemed guides round up this award, each with an average of 10 years fishing on the South Fork. We maintain that we have wrangled up the finest, most patient and responsible "fishing junkies"  this river or any, for that matter, possible.
With over 5,000 trout per mile and a daily average of 15-18 inch Yellowstone Cutthroat, Rainbow, Cutbows and Brown Trout. The South Fork of the Snake truly is a necessary addition to every angler's memory log. Eager trout munch their way through hordes of hatches throughout the year in braids, riffles, runs, banks and drop-offs of this fabled river. Eighty five percent of our current clients at The Lodge at Palisades Creek are repeating the trips of years past. Begin your relationship today.
Every staff member at The Lodge at Palisades Creek is dedicated to the comfort and enjoyment of you…our valued guest. Your happiness is not only our goal, but it is our guarantee. We can promise your next return will prompt you to bring new friends, family, and guests to share in this great experience.
Most of our staff lives locally and works seasonally. Many have worked at the Lodge for over 10 years. You can ask a housekeeper about the dinner menu, a server about needing an extra pillow, or a groundskeeper how the fishing has been. The Lodge is family owned. Marshall and Patricia Geller have been owners since 1990.
Justin Hays, General Manager, Minneapolis, MN
Justin Hays, Manager of The Lodge of Palisades Creek, has 35 years of experience in the hospitality industry. With a passion for fly fishing, he looks forward to continuing the legacy of great food, great service, and great guides. Please feel free to contact him any time so that he can guarantee your stay is as incredible as can be expected. [email protected]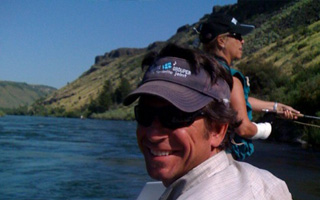 Shayde Stotts, Assistant Manager, Irwin, ID
Shayde has worked at the lodge since 2004. He's involved in every aspect of what it takes to run our fly fishing lodge from reservations, host, fly shop, and guide scheduling.  He's our friendly voice on the phone year in and year out ensuring that everyone has the trip they deserve.
Charles Ellsworth, Evening Host, Winona Mississippi
Charles began his journey out west as a chef working in area resorts. Charles was a fisherman in the south and expanded his knowledge by completing guide school on the South Fork a few years back. The Lodge brought him on board in 2019 and he has brought the service level up a couple of notches working with the chefs on menu offerings, wine pairings, and drink specials, keeping notes on all guests, and listening for spaces and places for guests to have a quantum memory.  Look forward to chuck's homemade bitters and unique cocktails at happy hour.
Vern Schroeder, Grounds and Maintenance, Swan Valley, ID
Vern lives here in Swan Valley, Idaho. He keeps our grounds immaculate, the water running, and the lights on. A do-it-all kind of guy that can row a boat too. Vern is an all around team player. Vern lives on the property year round.
Cori Vias, Head Housekeeper, Swan Valley, ID
Cori is the lodge's head housekeeper.  She is a Swan valley born and raised locally.  She has a fun attitude, a great family, and is a treasure at the lodge. She coordinates every day to make sure your stay is clean, comfortable and fun.