Let Us Show You Our World
Some of the best in the Business
To be called "fishy" is one of the highest compliments you can receive amongst fellow guides. Fishy describes someone who possess an unparalleled passion for fly fishing. So much so, that they literally think like a fish. All of our guides possess this coveted title. Our goal is to create an unmatchable fly fishing experience for anglers from every skill level. Our guides will go above and beyond to share their knowledge and skills with you with these objectives in mind; to catch fish and make you a better a fly fishermen. In addition, create a personal client to guide relationship that will continue year after year. Come and experience it for yourself. We fish one river. We hire local. We have the knowledge. Why fish with the rest when you can fish with the best?
Head Guide - Scott Reimer
Idaho Falls, Id.
Scott was born in Billings, MT and a few years later moved to and was learning to fly fish in the Black Hills of South Dakota. At the age of 12 he was packed up and moving to Idaho remembering the only thing he was worried about was "how was the fishing going to be in Idaho?" He has fished as often as possible since that day and loved every minute of it. Now guiding the waters he has learned to fish is the most rewarding part of it all. Scott and his wife Jodi live in Idaho Falls with their two children.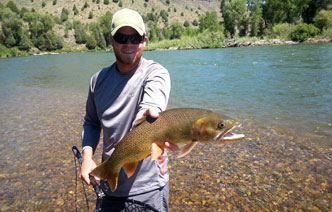 Swan Valley, ID
Josh was born and raised right here in Idaho and was lucky enough to grow up hunting and fishing the region. Josh has been working here at The Lodge at Palisades Creek as a fly fishing guide since the summer of 2008. "I just love to be on the water, mostly fly fishing the south fork. You might find me ice fishing, wading the shallows of a local lake, casting to carp or floating the salmon river in search of steelhead. As long as I am on the water and there are fish involved I am a happy boy."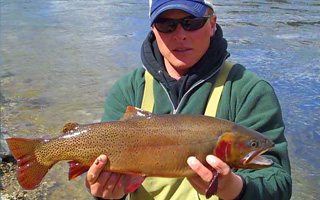 Driggs, Id.
Josh Jablow has been guiding the last 25 years and has spent the last 20 years fishing and guiding the waters of southeast Idaho such as the South Fork of the Snake, Henry's Fork, and Teton River. He began his fly-fishing life in the waters of Eastern Arkansas, while living in Memphis, TN. He then took his passion out west. It was in Colorado where he went from fly fishing fanatic, to fly fishing fanatic and guide.
After 5 years living in Breckenridge, Josh decided to call Idaho home. He moved up to Driggs, ID from Colorado, and soon realized he had landed in one of the country's best fisheries. His other interests include snowboarding, playing bass guitar, photography, and long walks on the beach :-). Josh's patience and ability to teach others will make a great day on the river even better.
Idaho Falls, ID
Robert "Buck" Leonard grew up in Idaho and learned to fish on the South Fork as a child. While completing a degree in geology, Buck turned a passion for all things fly fishing into a career. Buck has now been a full time guide on the South Fork for over a decade. Buck also has guided steelhead in Idaho and has guided salt water anglers in the Caribbean.
Buck's experience and demeanor makes him an excellent guide and teacher, both for the most experienced angler and the first timer looking for just the right introduction to the sport. Professionalism, personality and fish productivity combine to make Buck one of our most requested guides.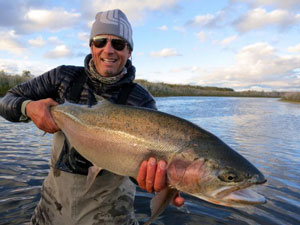 Swan Valley, ID
Cole was raised in Swan Valley, Idaho, and from his earliest memories recalls running through the hills and calling the South Fork of the Snake River his backyard, spending as much time as possible learning the water and fishing. Cole began working at The Lodge at Palisades Creek at the young age of 14; spending summers cutting the lawn and raking the Casting Pond. A deep local knowledge and enthusiasm distinguishes Cole's approach.
Cole has achieved the top guide in the Jackson Hole One Fly for the Idaho section in 2007. In his free time you'll find him tying flies for the use on South Fork, hunting, and snowboarding.
Rigby, Id.
Chase enjoyed growing up in Flagstaff, it was the best place for an outdoorsman in the state. But coming out to Idaho was the best move he has ever made. You can fish and hunt throughout the whole year in your own backyard. There is always a season going on and of course the fishing never ends.
Being able to fish the South Fork everyday is not something that gets old. Chase started working at the lodge at the young age of 19 and he loves absolutely every minute of it. As your guide, Chase strives to show you just exactly what the South Fork has to offer, from big dries on the banks to small dries in the riffles and everything in between. Prepare to fall in love with Idaho and the South Fork and plan on coming back year after year.
Victor, ID
Dan grew up on the banks of the Esopus creek in upstate NY near the Catskill mountains. He developed a love and passion for fishing as a child. He moved to Jackson, WY in 1984 and built a home in Victor, ID after a few years in Jackson. Dan has 30 years of experience fly fishing and guiding on our beautiful South Fork of the Snake River. Dan loves to help out when his schedule allows him to share his knowledge and experience with TLAPC clients on his favorite River. Dan's favorite fly is the pink sparkle Dunn. There is nothing like dropping it in softly into a pocket swirl on a large bank, keeping it from getting sucked under with a high stick mend, and then sticking the hog, life defined within seconds.
Swan Valley, Id.
George was born and raised in Southern California. He grew up surfing, skating, and fishing saltwater out of Newport Beach California. When he was growing up he would take yearly trips to his Grandfather's ranch in Swan Valley. He's always been amazed by the wild beauty of the river and moved to Swan Valley when he was 19 to escape the rat race of living in Southern California. He fell in love with fly fishing the week after he moved and has been "hooked" ever since. He loves working in the fly shop almost as much as fishing and being on the water. He is very excited to be guiding on the South Fork as well as working in the shop.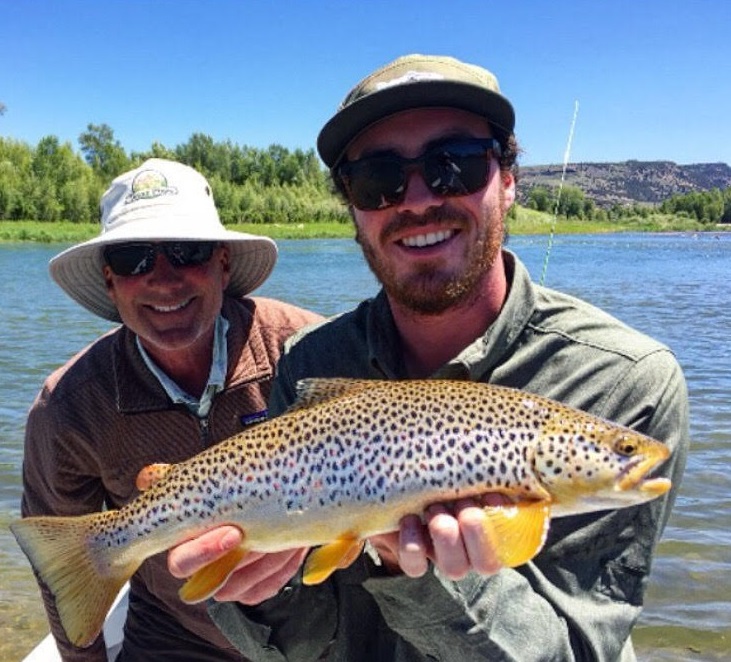 Iona, ID
Heath was born and raised in Iona, Id, just a short 25-mile drive from his favorite water in the country. From the early age of 3 he spent his summers exploring the South Fork of the Snake with his father and uncle, and as we have all experienced, from the first fish, he was "hooked". At age 8 he was put behind the oars and has since spent every waking moment chasing fin on our famed river. With a background in coaching and a deep passion for his work, he is definitely a great match for any angler. From the novice to expert you, his passion for the South Fork and love of fly fishing will undoubtedly bring you back for more.
"As dreams go, I have been blessed to achieve mine. Every day on the water is rejuvenating and educating. Day in and day out this river puts a smile on my face, and gratitude in my heart. There is no better feeling than watching the look on a friend's face as he lays into that first trout of the day, tip bent and reel singing. Be warned, this river has a way of making everything else in the world disappear, and for a moment, you truly feel like you've found heaven on earth."
Preston Caldwell
Rigby, ID
Preston followed his cousin and fellow TLAPC guide Chase Hines from Arizona to Idaho. Living in Rigby gives Preston close access to his favorite section on the South Fork, section four. Preston enjoys getting down and dirty with streamer fishing.  He enjoys teaching and realized after teaching several friends how to fly fish that maybe he should be a fishing guide.  Preston is married with a son and a daughter.  You can follow him on Instagram @aybpreston
Idaho Falls, ID
Cruz Quiroz was born and raised in Idaho falls. Fishing has always been his favorite things to do. He grew up using worms and spinners on Willow Creek. He moved to Yellowstone with his brother and sister-in-law for a summer and got hooked fishing the Madison River. He's been guiding on the South Fork of Snake since 2014. His favorite section of the South Fork is #4. He likes fishing the big drop offs and slow flats. Nothing makes him happier than throwing a big Olive Sex Dungeon out of his drift boat. When he's not fishing he loves spending time with his 4 year old Daughter, and in the blind waiting for ducks. 
Michelle was born and raised in Southern California but has been recently based in Colorado guiding mostly on the South Platte and Colorado rivers. After wandering the world in recent years fishing in Argentina, the US gulf coast, Mexico, and the Bahamas;  Michelle decided to make Idaho Falls and the South Fork her new home. Michelle enjoys teaching beginners and getting people their first fish on a fly. Any day on the water is an awesome day, but it's a really good day if we're chucking streamers at some big fish.
Matt grew up in Pocatello, Idaho fishing the Blackfoot, Snake, and Portneuf rivers. He loves chasing trophy trout and bass on the lower sections of the Snake River. Matt has spent a lot of time guiding anglers and managing a lodge in northern Saskatchewan for trophy pike. When he's not guiding or fishing he enjoys spending time with his family and dogs. His favorite methods for fly fishing are floating big dry flies and stripping streamers. Matt is very passionate about teaching his clients how to be successful on the water.
Chris was born in Sonoma Co. Ca. He spent a few summers in BC where he learned to fly fish with his grandparents. After college, he moved to the Tetons to pursue the powder-covered mountains and spend the rest of the year on the rivers of the Greater Yellowstone area. He has fished and guided all stretches of the South Fork for 10 years and is happy to float and fish them on his days off with his family. While happy to help others with all aspects of fly fishing," Chrispy" can usually be found throwing streamers to trout or saltwater fish on his days off.
Keegan was born and raised in Eastern Idaho and grew up fishing all over this area. He started fly fishing and rowing a boat on the South Fork when he was about 10. Keegan has been guiding for TLAPC since 2016.  He loves his time on the water, fishing or guiding or taking his daughters for a ride up the river. He is a great fly tyer and designer and enhoys in using them to catch fish. Keegan is an active volunteer for Project Healing Waters Fly Fishing. He is a USMC veteran and takes a special pride in working with the disabled vets that PHWFF supports. 
Brody was born and raised in Rigby and grew up hunting and fishing right here in Southeast Idaho. When Brody's not in the shop (Brody is our fly shop manager too!) or guiding, he's likely on the river doing what he loves most. His favorite section of the river to fish is section 1 because of the abundance of trophy browns and rainbows it's known to hold. His favorite method for fly fishing is stripping big streamers, targeting trophy brown trout.