The Lodge at Palisades Creek is a full-service destination fly fishing lodge. You could literally arrive with just the shirt on your back and we can outfit you for the duration of your stay. But, planning and preparing for your trip is all part of the fun so here are a few suggestions of things to bring to make your trip even more successful.
While the weather can change at anytime in the Idaho mountains there is a much better chance of inclement weather in the Spring and Fall.
Layers – Your day could start out cold and then end up being warm and sunny so dressing in layers is the key to success. There is plenty of room in our boats to store extra clothes so bring clothing that works in layers. You'll find most of our guides wearing long underwear, a mid layer, waders, an insulated jacket, and a rain jacket everyday this time of year.
Waders and Rain Gear – If you have waders and rain gear you'll want to bring them. While you'll spend most of you time in the boat you'll appreciate waders for warmth and rain gear if you need them.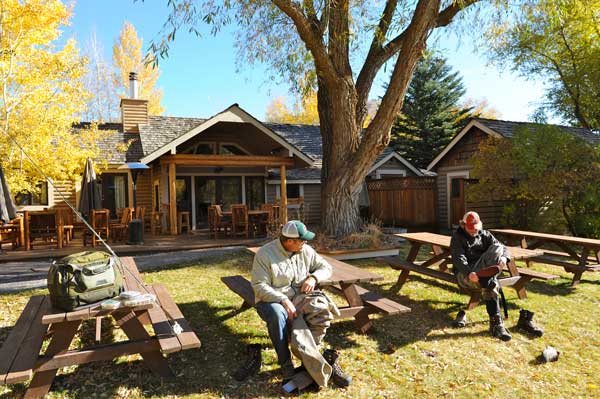 Our weather forecast from mid-June through mid-September pretty much goes like this "mostly sunny with a chance of an afternoon thunderstorm" Daytime highs can reach near 100 but most often are in the 80's.
Sandals, shorts, and sunblock are the name of the game but don't forget to pack a warm layer (fleece jacket or lightweight puffy jacket) and a rain jacket. You might also consider bringing some rain pants as well.
Waders are not necessary in the summer as generally they are too hot to wear in the boat all day and the water warms enough to make wet wading very pleasant.
No matter the time of year here are few other things to bring:
Polarized sunglasses
Sunblock
Medication (epi pen if you have allergies)
4-7 weight rods/reels most guests bring a 5 or 6 weight if they have them. (we have rods available if needed.)